As the second-largest continent on Earth and housing more than a billion people, Africa is home to some of the most diverse culinary cultures. With such diversity, the continent is a food lover's paradise.
Many African dishes have influences from around the world and often contain grains, meat, root vegetables, and robust spices.
From the shores of Cape Town to the Sahara Desert, from the West African coast to the horn of Somalia, here are some of the most popular African foods.
Whether you love spicy food or tender flame-grilled meats, you'll be hungry for some traditional African cuisine.
Tajine
Tajine is a stew that originated in North Africa, and it's common in Algeria and Morocco.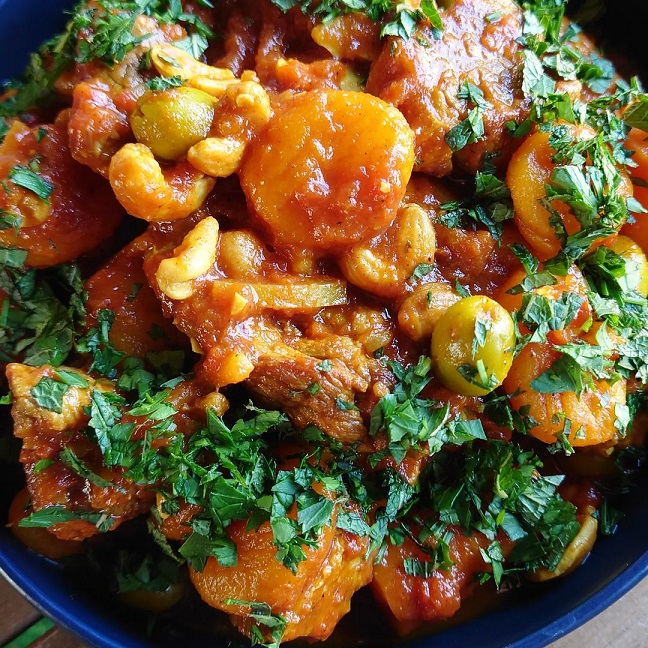 Tajine is prepared with spices, slow-cooked meats, seasoning, and vegetables or fruits. 
Bobotie
Bobotie is a South African dish made with meat and egg. You can serve bobotie with various side dishes such as chutney or rice.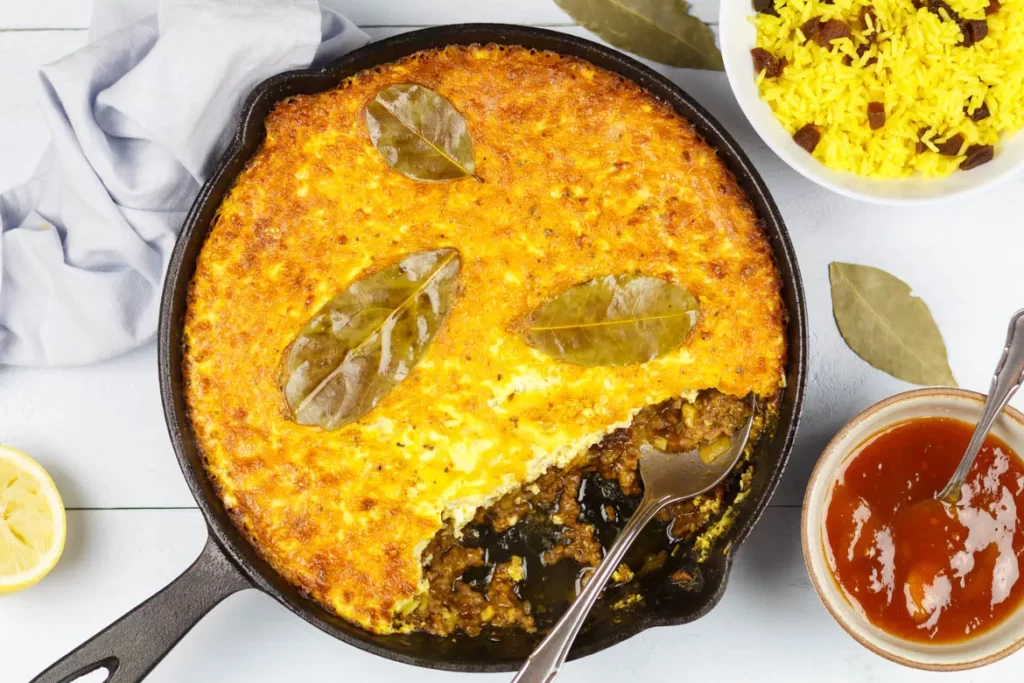 Bobotie is made by mincing a meat layer beneath a baked egg coating. Typical meat choices include:
It's common to add chopped onions, raisins, sultanas, walnuts, and other regional toppings. These toppings sweeten the dish.
Braai
Braai's are a method of cooking meat in South Africa that's usually done on holidays or special occasions.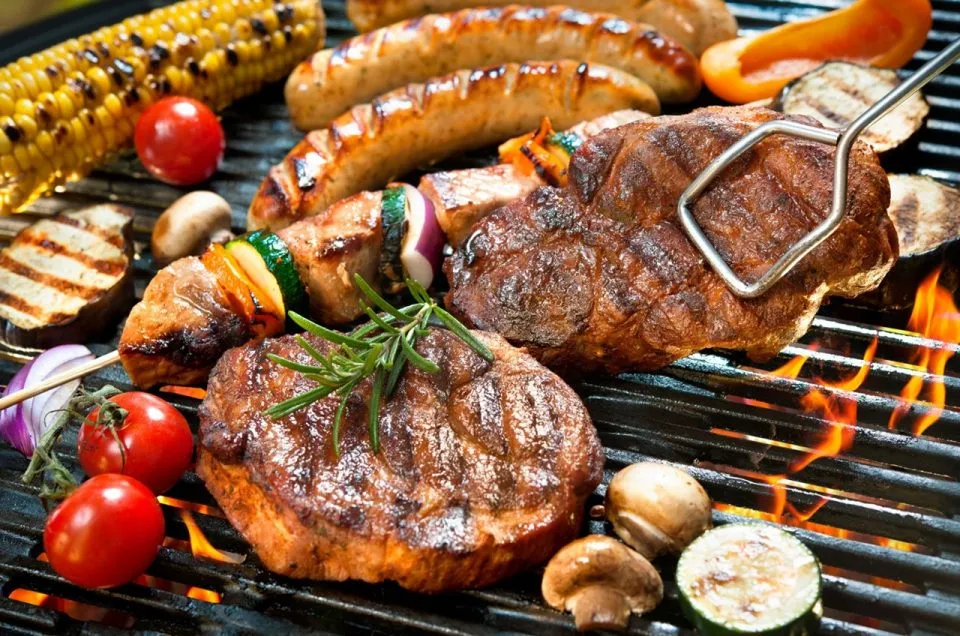 It's reminiscent of the American barbecue, but it lasts hours. The fire used to cook the meat remains lit long after the food is eaten.
The long cooking times allow South Africans to connect with their family and friends by sharing drinks and stories next to the fire.
Ugali
Ugali is an African porridge that originates in Kenya. The porridge consists of maize flour.
Ugali also goes by the name Sima. This dish is universal and can pair with almost any meal or vegetable side.
The porridge is thicker and stiffer than western porridges, and it needs to be cut with a knife and fork. Many people like to pair their Ugali with meat and rice to make a filling, well-balanced meal.
Couscous
Couscous is a North African staple food that you make with steamed wheat granules. These granules are finely rolled, much like quinoa.
Most couscous sold in stores is pre-steamed and pre-dried, making it simple to whip up.
Couscous can be included in pretty much any dish, whether it be a stew, curry, or salad. The nutty taste of couscous goes quite well with beef, potatoes, and chicken.
For salads, I love using couscous with olives, tomatoes, feta cheese, cucumber, beans, and Mediterranean spices for a light refreshing side dish.
Bunny Chow
Bunny chow is a South African meal that's made of a hollow loaf of bread filled with curry.
You have a lot of freedom to make this meal however you please, depending on dietary restrictions, how spicy you like your curry, and how many vegetables you want. Popular bunny chow curries include:
Chicken curry
Malay vegetable curry 
Bean curry
Mutton curry
Its versatility makes it such a popular dish, and many Africans top their bunny chow with chili paste.
Egusi Soup
Egusi soup is a staple food in West Africa. Made from squash and melon seeds, it's a thick soup that might seem more like chowder to Western consumers.
The seeds are grounded into egusi paste after they blend with an onion mixture. It should take you less than an hour to make.
Once you've made the paste, heat some vegetable stock and scoop balls of the paste into the pan.
Feel free to add meat or other ingredients. Pumpkin leaf and spinach are common ingredients. 
It's a potent meal that's extremely savory and nutty. All the ingredients come together to form a flavor that you just can't find in most western meals.
Jollof Rice
Jollof Rice is a popular Senegambian dish. Jollof rice is spicy and is served with vegetables and meat.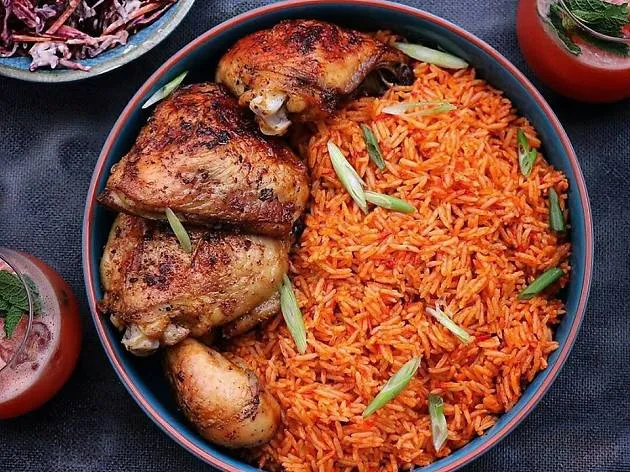 The rice itself is red-orange because of the puree of tomato paste. The rice used is typically long grain and parboiled.
Jollof rice is so common in Africa that each country has its unique recipe for how to make it. These recipes are often significantly different.
In Nigeria, the dish is paired with a bean pudding called moimoi and fried plantains. In Ghana, it's often served with pepper sauce, known as shito.